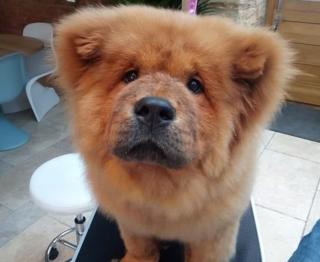 A four-month-old puppy caged for biting a police officer has been released.
Bungle the chow-chow was held by Northamptonshire Police for more than four days after escaping from home – sparking anger among pet lovers who demanded his release.
He was seized under the Dangerous Dogs Act but returned earlier after his owners agreed to a Voluntary Control Order (VCO).
Police said public safety was the "priority in such situations".
Bungle was detained after being spotted under a lorry by an officer, who was bitten as he tried to grab the dog.
Writing on social media, owner David Hayes said the pet had sneaked out of the family home in Stoke Bruerne, near Towcester, on Friday.
Mr Hayes said his 15-year-old son Joseph "broke down at school" when he found out he may not see the puppy again until the new year.
He said they were "massively regretful" about the officer's injury but criticised the the "inflexibility" of police's "zero-tolerance stance".
'Disgusting and ridiculous'
Almost 5,000 people joined a Facebook campaign demanding Bungle be freed.
On the page, the police action was described as "disgusting" and "ridiculous".
Ch Supt Chris Hillery said the officer who seized Bungle had his "full support".
"The dog was unattended in a live carriageway and was aggressive to those present," he said.
"The potential risk posed by the dog at that time is not diminished by its age or that it was frightened.
"Having already bitten the officer twice, causing puncture wounds and bruising, it would have been negligent to release a dog displaying such obvious aggression without first ensuring both the dog's and the wider publics' safety.
"Having gone through a proportionate investigation and risk assessment, the dog has been returned with appropriate conditions to manage any future risk."